Thanks for visiting! 1918 - the film is an independent short film about two life-long Red Sox fans who miraculously land tickets to the World Series. On the way to the big game, disaster strikes at every corner.

After three years of wicked hard work, we finally shot our footage. You may have seen us around MA or outside ALCS and World Series games at Fenway in 2004! And what a year to choose! This is a film made about Red Sox fans by Red Sox fans. Most of our cast and crew are Massachusetts natives.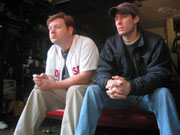 Jeremy Brothers and Michael Cuddire as Petey and Tim.
Principal shooting for the film took place October 16 - 25th, 2004. We have a cut available for film festivals and screenings, but we're still fine-tuning!
How you can see 1918 -the film
We're thrilled to say we've been accepted into the New England Film &amp Video Festival, Williamstown Film Festival, and New Hampsire Film Expo for 2006. We have also screened at the Plymouth Independent Film Festival, Woods Hole Film Festival, the and Rhode Island International Film Festival. Join our our email list to get screening, festival, and party updates. We won't sell or use your name anywhere else.
Contact us anytime at info@1918film.com with comments, questions, and media inquiries. Please support us and forward our URL to family, friends, and co-workers.
Thank you for your support!
---


Writer/Director Jay Burke gets props at the New York
Mets' Shea Stadium during a softball event at the ballpark.